Details

Ashbury Studios

Hits: 3995
When one is out on the road away from their home, there are not many things which they can rely on for help. Suppose if the car breaks down in the middle of the highway in the dark hours of the night, then there is nothing much that one can do as the helping friends and family are miles away and the oncoming traffic is impossible to stop. At such times the towing services can come to your rescue.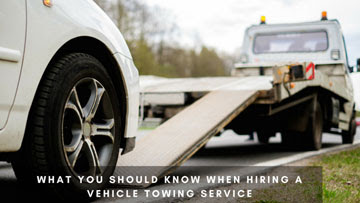 The vehicle towing services always have your back, with their dedicated high-end services. In a situation like this where the car has broken down and there is nowhere to go, the dismay or distress may takeover someone's mind. This is where the vehicle towing services comes into the picture and rescues the person.
But there are a few things which one should keep in mind before choosing any towing services.
Quotes- Before making the final call, check all the prices and the quotes because later on the prices may cause a lot of confusion as well. There are many vehicle towing services which provide the best services at a reasonable price. Sometimes there are a lot of hidden costs and prices which are involved but the company never lets us know until the end. To avoid this make sure that you check the whole quotation thoroughly.
Ask it all- Never hesitate to ask the right questions to these companies about any query which you have. One can ask about all the prices or the hidden costs which they charge for their services. This will ensure the safety of you and your finances. There are many towing services in Albury and nearby regions who are very much customer friendly and they are open to all the questions which one may ask.